AAE Online CE
SP-46 Pathways to the Dental Pulp Proteome
Product not yet rated
CE: 0

Course Description:

Proteomics techniques are rapidly evolving to allow identification of unique proteins expressed by different tissues. To explore the odontoblast layer proteome we used two different techniques to isolate pulp protein: one to enrich for the internal pulp stroma, the second to enrich for the pulp periphery. Protein was extracted from pulp samples and processed using TAILS (Terminal Amine Isotopic Labeling of Substrates): labeling protein amino-termini before tryptic digest, separating blocked N-terminal peptides from internal peptides by aldehyde-polymer filtration, and finally, analyzing both N-terminal peptides and internal peptides by mass spectrometry. Software identified peptide sequences using liquid chromatography mass spectrometry which identified individual peptide source proteins. We identified 2997 proteins—four previously undiscovered in human tissue. Our two extraction procedures showed significant differences between the protein of the pulp stroma and odontoblast layer, and significant differences in the proteins expressed by young pulps and older pulps which reflect changes in protein expression throughout the tooth life cycle. We showed how different regions within the pulp have distinctive proteomic signatures, which probably reflect different functions and cell populations.
At the conclusion, participants should be able to:

Discuss how improved understanding of proteomics can help us understand normal biologic function and may contribute to better understanding of specific disease processes.
Describe the basic objectives of proteomics research and several specific proteomics techniques used to identify peptides and source proteins.
Evaluate the quality of proteomics data they come across in research papers.
Key:

Complete

Next

Failed

Available

Locked
Open to listen to or download MP3 audio.
Open to listen to or download MP3 audio.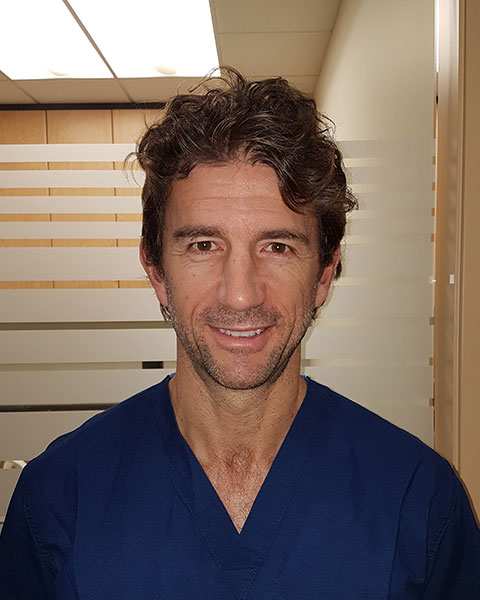 Simon R. Abbey, B.Sc, DMD, M.Sc, Dip Endo
Simon Abbey is an endodontist in private practice in Vancouver, BC. After completing a B. Sc degree at Queen's university in Kingston, Ontario, he returned to his home province to complete his dental training and eventually endodontic residency program at the University of British Columbia. While completing his dental degree he had the opportunity to work with Dr. Chris Overall's group doing protein engineering research on type I and type IV collagenase. When he returned to UBC in 2014 he was reunited with the same research group to do the pulp proteomics research presented here. This research has been published in the Journal of Dental Research and Journal of Proteomics. In between his dental degree and specialty program Simon spent a few years in private practice in Fernie, BC and on Vancouver Island, and 15 years in the Canadian Military, where he was stationed in British Columbia, Ontario and Quebec and deployed to Afghanistan in 2007 as part of NATO operations in Kandahar. Outside of work Simon spends as much time as possible at Whistler skiing and snowboarding in the Winter and in the summer on the myriad selection of mountain bike trails around BC.
$i++ ?>
Simon R. Abbey, B.Sc, DMD, M.Sc, Dip Endo

I declare that I have no proprietary, financial, or other personal interest of any nature or kind in any product, service, course, and/or company, or in any firm beneficially associated therewith, that will be discussed or considered during the proposed presentation.