AAE Online CE
SP-6 In Vitro Biofilm Research: Are Current Biofilm Models Acceptable (Adequate)?
Product not yet rated
CE Credits: 0
Program Overview:
It is recognized that bacteria are the main cause of pulpal and periapical disease. Aggregation of bacteria into well-established communities (biofilms), are very difficult to disinfect and eliminate from root canal systems. Root canal morphology is composed of irregular shaped canals, isthmuses, fins and apical ramifications; these canal irregularities are challenging areas to thoroughly clean and disinfect and from which to remove biofilms. Lately, many in vitro studies on root canal irrigation have been focused on various ways to eliminate biofilms. There have been different biofilm models developed for these types of studies, from mono to multi-species biofilms. There is currently no evidence that these type of models are appropriate for evaluating growth, maturity and resistance for testing in various protocols. In this lecture, several models will be presented and discussed.
At the conclusion, participants should be able to:
Describe the role of bacteria in endodontic disease.
Describe different types of disinfection techniques.
List the advantages and disadvantages of current biofilm models used in in vitro studies.
Key:

Complete

Next

Failed

Available

Locked
Open to listen to or download MP3 audio.
Open to listen to or download MP3 audio.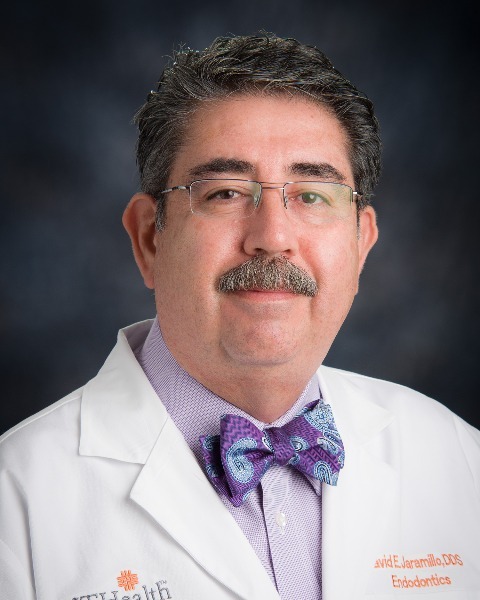 David E. Jaramillo, D.D.S.
David E. Jaramillo, DDS, is Professor in the Department of Endodontics at The University of Texas Health Science Center School of Dentistry at Houston. Former clinical assistant professor of endodontics at the University of Southern California (USC) in Los Angeles (2004-2006). He was an associate professor at Loma Linda University School of Dentistry in California (2004-2014). Actively participated in research at the Center for Biofilms under the direct supervision of Dr. William Costerton at USC School of Dentistry and the Department of Electrical Engineering/Electrophysics at USC Viterbi School of Engineering. Dr. Jaramillo has authored and co-authored more than 25 peer-reviewed, published articles, seven book chapters in the field of endodontics. Dr. Jaramillo has spoken at endodontic meetings for The American Association of Endodontics, The European Society of Endodontics in Rome Italy and Barcelona Spain. International Federation of Endodontic Association (Tokyo, Japan), Mexican Association of Endodontics, Argentinean Association of Endodontics, Costa Rican Dental Association, Ecuatorian (Pichincha) Association of Endodontics, Dominican Republican Association of Endodontics, and the Asociacion Espanola de Endodoncia (Madrid and A Coruña, Spain) and Germany Society of Endodontics. Program director for Roots Summit meetings and Mexican Association of Endodontics. Former president of Houston Academy of Endodontists, Chair IFEA Grant Research Committee and new member of the International College of Dentists USA Section. Has 2 patents in the US.
$i++ ?>
Disclosure: I declare that I have no proprietary, financial, or other personal interest of any nature or kind in any product, service, course, and/or company, or in any firm beneficially associated therewith, that will be discussed or considered during the proposed presentation.